Here we convert
wind into energy
The eno energy group has established itself as a wind
turbine manufacturer at 7 locations with 380 wind turbines. 
The right manufacturer for you!
Moving the future of tomorrow today
The eno energy Group is Europe's leading medium-sized manufacturer of premium wind turbines. At our locations in Rostock and Rerik we develop and produce durable and powerful onshore wind turbines in the 2.2 to 6.0 MW range.
With our premium quality "Made in Germany" and innovative know-how, we offer our customers individual solutions. Based on our product portfolio, our international sales pipeline and our constantly growing network, our basic environmental and social idea of long-term and responsible action drives us forward every day.
20 Jahre können nur der Anfang gewesen sein. Ich bin überzeugt, dass wir unsere Anstrengungen für den Klimaschutz verstärken müssen, um unserer Verantwortung gegenüber den nachfolgenden Generationen gerecht zu werden.

Karsten Porm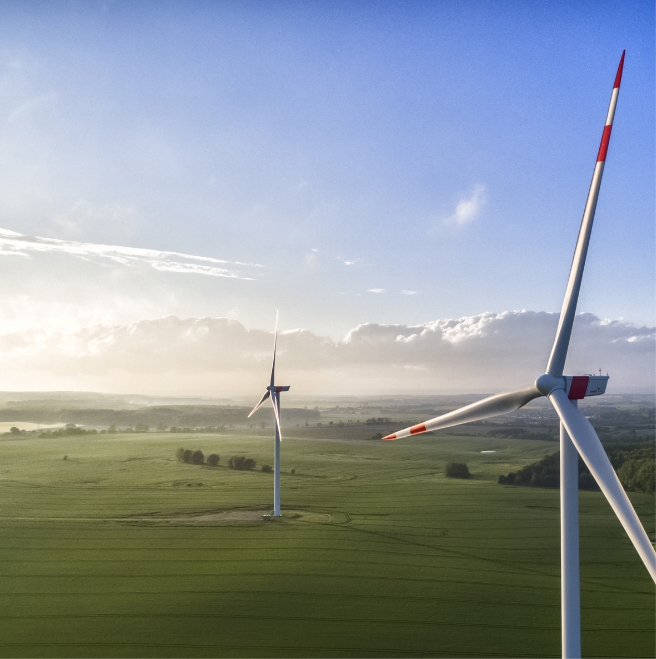 eno energy GmbH
Project development, sales, general contractor,
structuring, financing, operational management
eno energy systems GmbH
Production, engineering, service, maintenance
eef SAS
The eno subsidiary on the
French market
eno Sweden AB
The eno subsidiary on the
Swedish market
FOR WIND.
MADE IN GERMANY.
enoVATION is your all-round service provider
in all areas of wind turbine development.
1999
Foundation eno
by 3 employees of different manufacturers as an engineering office
2008
• Market entry: France
• Erection of first eno WTG
• Opening of production in Rostock
2011
Foundation:
eno energy Sweden
2012
Market launch;
eno114 (3.5MW)
2013
Start:
Switch cabinet construction
2016
Over 100 turbines installed
Development: eno126 (4.0 MW)
2017
Further development:
eno114, eno126 with 4.8 MW
Construction: first eno126
2019
20 years of eno energy GmbH
2020
Market launch
• eno140 (4.2 MW)
• eno152 (5.6 MW)
• eno160 (6.0 MW)
Please address press enquiries to:
eno energy Group
Anne Wolff
Marketing 
Straße am Zeltplatz 7                                                        18230 Ostseebad Rerik
+49 (0) 151 547 065 87
marketing@eno-energy.com