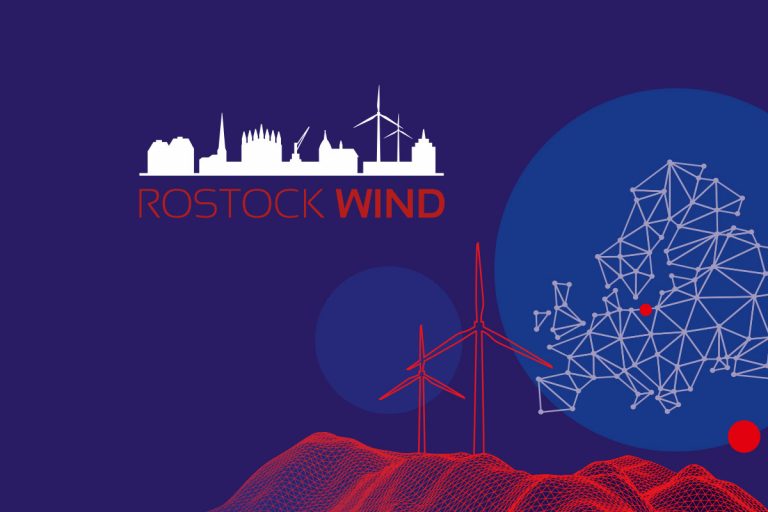 Rostock Wind remains the largest onshore wind industry forum in north-east Germany
Interested trade visitors, lively discussions and valuable contacts: Rostock Wind remains the largest onshore wind industry forum in north-eastern Germany. On 9 August 2019, the eighth Rostock Wind, organised by eno energy, the German Wind Energy Association (BWE) and the German Engineering Federation (VDMA), opened its doors. (VDMA), opened its doors and was once again the meeting place for the wind energy sector.
Around 260 invited guests attended the informative and challenging presentations by top-class speakers in the Planning, Technology and Financing forums. The results of the latest onshore wind energy tender published by the Federal Network Agency on the day of the event provided a dramatic topic for discussion. With an acceptance rate of only 30 %, down from only 45 % previously, there was unanimity among the guests and speakers that short-term measures are needed to clear the approval backlog for wind energy projects. "The federal government must now do its part to get the German domestic market and its employment back on track as the engine of the wind industry," demanded BWE President Hermann Albers, for example, referring to the loss of 26,000 jobs due to the slowed expansion, and added: "The climate cabinet on 20 September must bring results!"
Peter Stein, a CDU member of the Bundestag, also sees it as the duty of politicians to pave the way for solutions to the problem of the energy transition, which is increasingly coming to a standstill, with both local and global approaches. As a former member of the Mecklenburg-Western Pomerania state parliament, Stein knows about the challenges at the state level. Through his membership in the Committee on Economic Affairs and Energy as well as the Committee on Economic Cooperation and Development, he is also familiar with the complexity of the interrelationships in the energy sector at the federal level and even further in the global context. Power to X, sector coupling and energy storage are topics that will have immanent relevance for the success of the energy transition in the future. Peter Stein extended his hand to the industry to tread these new paths together.
Die Branche kann gespannt in die Zukunft schauen. Und diese sieht, sofern die Weichen zeitnah richtig gestellt werden, so düster nicht aus, wie Matthias Zeilinger, Geschäftsführer bei VDMA Power Systems, in seinem Vortrag ausführte. Es bleibt also abzuwarten, ob sich am 05. September, auf dem "Windgipfel" von Bundeswirtschaftsminister Peter Altmeier (CDU) etwas bewegt im Stellwerk der Politik.
Auf jeden Fall wird es weiterhin reichlich Gesprächsstoff für Diskussionen geben. Wir laden Sie hierzu recht herzlich zum kommenden Branchentreff, der Husum Wind 2019 vom 10. – 13. September, auf unseren Messestand 1B02, in Halle 1 ein. Seien Sie dabei und kommen gerne am Mittwoch vorbei, um unser 20 – jähriges Firmenjubiläum zu begehen.
Natürlich laden wir Sie auch wieder ein, auf der kommenden Rostock Wind am 07. August 2020, mit uns die brennendsten Themen der Branche, zu erörtern. Uns allen ein positiv spannendes und erfolgreiches Jahr.
Shaping tomorrow's future today
The eno energy Group is Europes leading medium-sized manufacturer of premium wind turbines. At our locations Rostock and Rerik, we develop and produce durable and powerful onshore wind turbines in the 2.2 to 6.0 MW range.
Due to our first-class quality "Made in Germany" and innovative know-how, we are offering individual solutions to our customers. Based on our product portfolio, our international sales pipeline and our constantly growing network, our environmental and social philosophy of sustainable and responsible behaviour drives us forward every day.